Termination of pregnancy and abortion at the
Woman & Health clinic in Vienna
On this website the Woman & Health team informs you about the procedure of an abortion and a termination of pregnancy with medication and gives you an overview of all contraceptive methods.
Advantages for your abortion at Woman & Health
Abortion is not an everyday occurrence for any woman, so it is all the more important that you choose a center with the greatest possible expertise in this sensitive area.
At Woman & Health you can rely on the following things:
We perform over 1,000 abortions annually.
Our specialists are among the most experienced doctors in Europe.
Our clinic complies with the strictest hygiene and safety guidelines.
From consultation, to the determination of the week of pregnancy, to the actual procedure, everything takes place under one roof.
We offer all methods for an uncomplicated & safe abortion.
We offer Austria's largest selection of contraceptive methods, including various IUDs, and can advise you on your choice.
We are always available in cases of emergency.
At Woman & Health the woman is in our center of attention.
Our entire team is Covid-19 vaccinated.
Important information concerning the Coronavirus:
We are here for you!

Woman & Health has plenty of available appointment slots if you need an abortion or termination appointment!
Dates that have already been agreed remain unchanged.
New appointments can still be made.
Abortions and pregnancy terminations can also be performed on Saturdays, in case you need to avoid a scheduling conflict at work.
Due to our central location in Vienna near Schwedenplatz (U1/U4), we are easily and quickly accessible not only by Vienna's public transportation system, but also via the main train station for patients from the southern and western provinces.
For appointments you can reach us Monday to Friday at 01/5333 654 52 as well as via e-mail at office@womanandhealth.com - we check our e-mails regularly.
24h-emergency & weekend hotline
You can reach us around the clock by phone, SMS, WhatsApp and signal at 0676 661 0 992. If you do not reach us immediately, we will call or write back as soon as possible and guarantee a quick & uncomplicated appointment.
Women's health continues to be our focus!
For further questions and appointments you can reach us by phone from Monday to Friday at +43 1 5333 654 52 as well as by mail to office@womanandhealth.com or in writing via the contact form at the end of this page.
News
Medical abortion and surgical abortion: comparison of methods.
Dr. Andreas Nather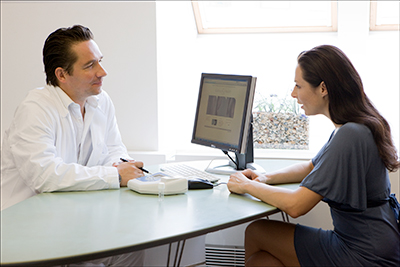 Which method do you perform most often?
Surgical abortion is chosen more often by our patients. With this method the situation is over more quickly than it is with medication abortion. After the mini-intervention, the patient usually has a menstrual period, which lasts only a few days.
Which is the better method for abortion?
There is no better method. It is always an individual decision, which is discussed together with the patient. After an examination, we advise the patient which method would be more suitable for her. The decision depends mainly on the state of the pregnancy. Both methods, medical and surgical, are very effective and have hardly any side effects.
What are the advantages of both methods?
The great advantage of the medication method is that the abortion can be performed very early and no surgical intervention is necessary. The big advantage of the surgical abortion is that it is very quick, the patient does not notice anything and does not feel any pain during the abortion.
What do I need to consider before my abortion.
Often women know quickly and clearly how to decide after finding out about their pregnancy. Sometimes the situation is anything but easy and requires time and conversation. In these cases, a nonjudgmental, empathetic counseling session at Woman & Health can help.
We also offer extra counseling sessions only. Here, no decision has to be made. An ultrasound may be performed to determine the week of pregnancy. No matter the final decision, this consultation is very helpful in any case, because patients are often confused by the information they find on the Internet.
How many abortions does Woman & Health perform each month?
We perform about 80-100 medication and surgical abortions at our center each month. Our patients tend to opt more for surgical abortions.
Is the abortion performed anonymously?
Of course - all data are specially protected.
What you need to know about medicinal abortion
Dr. Johannes Seidel on a method chosen by the World Health Organization (WHO) as one of the most important medications worldwide.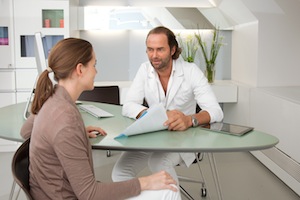 What are the differences of the medical abortion compared to the surgical method?
The clear advantage of the medication method is that no surgical procedure with anesthesia is necessary – even though of course it is usually harmless. Medical abortion is ideal for very early pregnancies. This method is allowed up to the 9th week (63rd day after menstruation).
It is a very safe and reliable method, with a success rate of about 97-98%. The disadvantage is that the medical abortion lasts two days and can be witnessed, which can be unpleasant for some women.
How much experience is there with medical abortion?
The abortion drug has been used in France since 1988 in combination with a prostaglandin. It is now approved in almost all Western European countries and has also been added to the list of essential drugs by the World Health Organization (WHO). To date, more than two million women in Europe have been treated with the abortion drug, to mostly great satisfaction.
How long has Woman & Health been performing this method?
Far more than 1000 medication abortions have been performed in our center.
How safe is the method? Does it really work?
Medication abortion is very safe and has a success rate of around 97-98%.
Is there any pain with medical abortion?
It depends on the individual patient and the week of pregnancy. The earlier the medical abortion takes place, the more likely the pain and also the bleeding will be experienced similar to a normal menstrual period. The later the abortion is performed, the more severe the pain and bleeding usually become. In most cases the pain is manageable with conventional painkillers.
What other method is there to terminate a pregnancy?
The alternatives is a surgical termination of pregnancy by means of suction curettage – a mini-intervention, which is usually completely free of complications.
It is performed under a short and gentle anesthesia and takes only about ten minutes. The patient can go home after about half an hour. At Woman & Health, surgical abortion always takes place in the presence of an experienced anesthesiologist and two gynecologists. This ensures maximum safety.
After the 7th week of pregnancy, the medical method becomes increasingly painful and lengthy. We tend to recommend surgical termination of pregnancy, especially if the patient is prone to more severe menstrual pain.
Contact
If you have questions about termination of pregnancy and abortion, you can send them directly to our specialists using the form below. If you would like to make an appointment, you can reach us by phone at +43 1 5333 654 52, and in emergencies around the clock by email at office@womanandhealth.com.We check our e-mails regularly!
24h-emergency & weekend hotline
You can reach us around the clock by phone, SMS, WhatsApp and signal at 0676 661 0 992. If you do not reach us immediately, we will call or write back as soon as possible and guarantee a quick & uncomplicated appointment.